Marketbuzzz survey reveals shoppers will be buying new year gifts this year yet 45% are planning to spend less compared to what they spent last year.
And no doubt the COVID-19 situation has been a significant influence on the new year gift shopping with 77% or over three in four Thais claiming it has affected their intention to buy holiday season gifts.
Nevertheless, retailers can still expect a busy time over the December period with Thais are still out their buying new year gifts for their family and friends and even treating themselves. The Marketbuzzz's survey among 500 Thais nationwide in November 2021, shows an even split between buying their gifts in the store at 53% and buying online at 47%.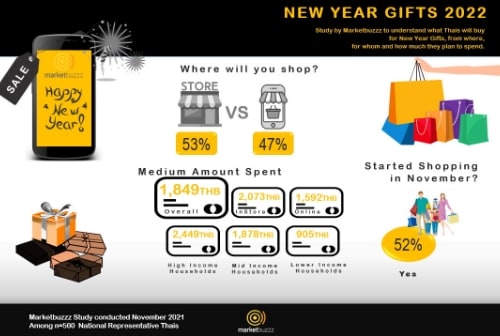 For the Thais that are going to buy at the stores they are more likely to spend more on the gifts compared to what they will be spending on gifts online. Thais, if they plan to go to the stores, are likely to spend just over 2,000 baht on average on their gifts and if they buy online the gifts are averaging out at a lower amount at just under 1,600 baht. And for those who are earning more with a higher household income they are more likely to spend more on gifts compared to those who are on a lower household income.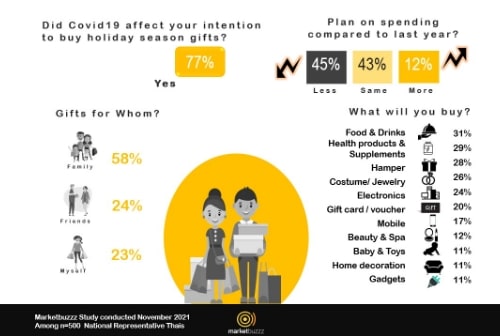 The top gift selection for this year includes a wide selection of gift options with the top 5 categories being Food & Drinks, Health Products & Supplements, Hampers, Jewelry and Electronics.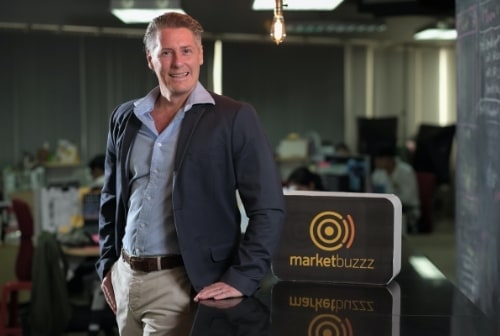 Mr. Grant Bertoli, Marketbuzzz CEO said "Every year retailers plan their seasonal inventory and product promotions well in advance for this busy holiday season and the retail industry will be hoping for a busy time over this period as Thais are still eager to celebrate, and gift-giving is high on the list. The retail industry has faced many challenges with the COVID-19 situation and while spending will be less it's a positive sign for the industry and a period which the retailers rely heavily on to boost their sales".
Bertoli added "The counter to this is that Thais have less money so they will no doubt be looking for a bargain so promotions are going to play a key role over this period. Brand and Retailers will be looking to these promotions to get a bigger slice of the sales pie".
And the good news is that Thais are definitely getting a head start on their new year gift shopping, with over half of the Thais already starting in November. Hopefully a good sign for the rest of the year.
About Marketbuzzz
Marketbuzzz connects mobile, tablet and pc users interested in completing surveys with market researchers who need their opinions. Through our partnerships with dozens of leading mobile app we're able to reach an audience exceeding 12 million people in Thailand.
---
For more information please contact:
clientservice_marketbuzzz@buzzebees.com or suvimon@buzzebees.com
---
For media inquiries, please contact:
Khun Khuntira Natvatananon
PR Senior Consultant
Tel: 094 1545698
E-mail: khuntira@buzzebees.com