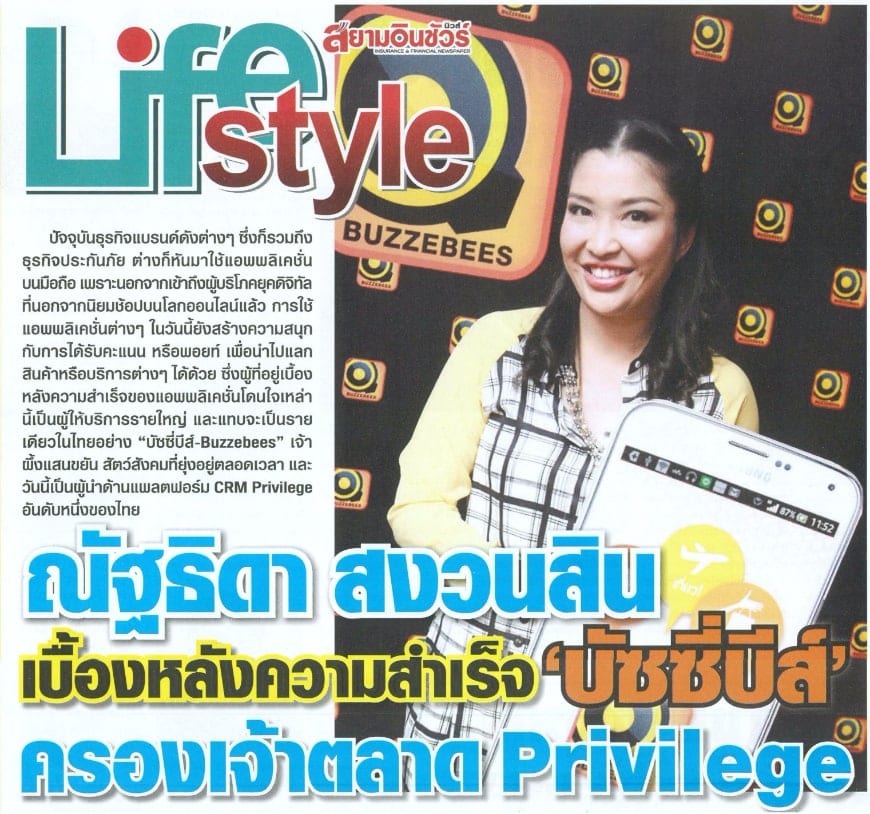 Today, several leading brands include insurance industry shifted to utilize mobile applications, not only to reach out customers loving to shop online but also make them feel fun to use by giving points which allow them to redeem special products and services just a few clicks. The person behind the success of these cool applications is the owner of the large service provider and likely to be the only one in Thailand known as 'Buzzebees', the diligent bee, always be busy and love socializing, today already become the No. 1 CRM Privilege Platform in Thailand.
"Our vision is to bring brands closer to consumers through loyalty program on mobile phone. The first thing we do is to discuss with corporate brands such as Minor, King Power, Singha Drinking Water, Samsung and Banks. We have partnered with over 60 leading brands especially, insurance companies. Almost all of the top insurance companies in Thailand have chosen our service. To be specific, their propose is to offer privileges to consumers or sales representative in order to have sales increased rapidly.
"Nattida Sanguansin" or "Pink", Managing Director of Buzzebees Limited Company explained about Buzzebees' works as the developer of CRM Privilege Platform for corporate brands, all in one solution. Some brands will give points to users while Buzzebees acquires rewards and privileges for them and those privileges include KFC, Starbucks, Amazon, and Chester's. As a consequence, Buzzebees can occupy approximately 80-90% of privilege market share including all segments, whether banks, insurances, and more. Moreover, we help brands manage both front-end and back-end, for example, Galaxy Gift app that enables users to redeem their special rewards via the app.
"Buzzebees is the only company that provides end to end customer journey solution, that is, from developing an app, acquiring deals – to setting advertising standee or simply put, we do everything in the privilege world. We provide loyalty platform which allows customers to redeem a code at participating stores. Why do several brands trust Buzzebees? The main reason is that it's a difficult task to acquire many privileges, for example, if you have 30 items of privileges and one item in Amazon has 2,500 stores, a lot of IT skills must be involved. Still, it can be easily solved by partnering with Buzzebees, we can develop back-end and connect everything all in one. At the end of the month, we'll start sending an invoice to our corporate clients and they just have to pay us instead of all 2,500 stores per branch per brand. As a result, we have the largest privilege network in Thailand right now and have occupied approximately 80-90% of the privilege market share. We still have no real competitors, but only in a sub segment. To be specific, we have real competitors in privilege segment or app developers, but no company providing IT, apps, privileges all in one, they're all separated, no one makes it all in one solution as Buzzebees, not even in other countries. For example, in America, there's a company name Point which responsible only for IT segment and not for privilege".
"Pink" described the success of Buzzebees through the example of 5 applications people use daily, she is confident that at least 2-3 apps are developed by Buzzebees. It's vital to plan the privilege strategy which was shifted compared to the past, in which brands mostly offered privileges as discounts or allowed users to redeem points at hotels or airports. However, the question here is – how often will people go to hotel? If we change the question to – how often will people go to 7-Eleven? Which one do you think people will more often go?
"So, the best privilege is all about frequency and quality of rewards, it's a part of the strategy. That's why we also focus on lifestyle segment which include lifestyle E-Content, Joox, iflix, and Central. Central is the only brand that allows customers to redeem a voucher themselves, not by mail. In the old days, if a brand needed to provide a free voucher to customers, they have to hire a messenger to buy and keep it on a safe, make a requisition, and deliver by mail which could be lost along the way, but what Buzzebees has been doing is to allow customers to simply show their redeemed code at Central themselves. It helps save the world by 2 million transactions and for the next move, Tesco Lotus will do so, simply show them your redeemed code at the cashier counter and that's all. Things we do here is all about privilege which include 1. Change Thai people's behavior, make it more interesting 2. Save digital transaction at around 2 million".
Moreover, we help several brands sell their products via E-Commerce such as Mead Johnson and Samsung or some may request us to deliver a product from our marketplace to their customers. For example, in the old traditional way, brands will deliver a reward catalogue to customers, but for today, online is everything. Customers can use points to get rewards instantly, whether it's top cosmetic brands; Clinique and Estee or Samsung smart phone, iPhone, fridge, and TV. All these rewards are perfect for those sales representative, for example, they can redeem a free washing machine, fan, TV, if they reach the sales goal, resulting in double sales increase or if they want a big prize such as America or Europe trip, they can just keep collecting points. This makes redemption approach more effective since sales representative are able to check their earned points whenever they want and real-time. It's also a part of Loyalty Program, for instance, in the past, if sales representative already had a lot of collected points and they didn't redeem it, those points will expire, which is why they didn't want to shift to other brands since they already earned decent points.
"Does our platform save insurance companies' promotion cost? Do points have higher value? The answer is no. Simply put, if you have 100 points now, you can redeem 30% discount in the past, but for our platform, you can get 70% discount. The cost may be higher, but satisfies our clients since it encourages their sales representatives to be more energetic and have more passion to sell and communicate with customers which results in higher sales. By using our platform, sales representative will be able to check their sales goal and get a special reward if they achieve it.
Additionally, Buzzebees Ecosystem can be the perfect solution for smartphones and help clients to reach their ultimate goal. Buzzebees is a smart platform with the combination of 5 major features include 1. CRM Mobile Privilege – To develop White Label platform (by providing Buzzebees website and application, allowing corporate clients to have their own application developed under their brand name), the system will be different in terms of functions and elements, depending on requirements of each company and their customers' needs; the example of functions and elements include point collection and trading 2. Privilege Marketplace (E-Commerce) – A place for retailers or brands to sell products or services to users, especially for SMEs having various products or services and seeking for sale and marketing channels to reach a large number of consumers 3. Online Survey & Digital Media – survey online by Marketbuzzz – To make a research and survey for brands along with acquiring various deals from SMEs, to attract consumers to take a survey. 4. E-Wallet – A digital wallet on mobile, enabling consumers to refill money and pay for products and services as well as earning points to redeem special privileges via mobile 5. Application Installation – To provide application installation for brands needing to promote their application.
Besides, Buzzebees has developed Big Data platform, currently have 50 million users connecting with Buzzebees Ecosystem and is similar platform as Google and Facebook, allowing brands to understand what customers love to buy or interested, what restaurant they always visit ,what hotel they used to stay, what they redeemed for, do they love movies, and what privileges interest them. With Buzzebees platform, it will categorize customers by their lifestyle, it even saves record of customers so that you know what make your customers stop scrolling and look at it, what they like or comment or share as well as what they redeem. The system will give points depending on their behaviors and at the end, able to categorize customers into mass or premium group.
"There is no this type of solution in foreign countries, not in Malaysia either. We've been evolving and no one can be this innovative as much as Thailand. Assume that the market share was a cake, Buzzebees must have shared a really big piece in South East Asia, but in Malaysia, their 6 month sales is equivalent to the first 3 year sales of Buzzebees. This market is full of potential, but still no one catches it. In the past, when Buzzebees had not yet born, we had privileges only on AIS or credit card, but for now it's a big difference".
Our insurance clients include Muang thai insurance, Krungthai AXA, Thanachart insurance, Thai Ocean Life, Thai insurance, Allianz Ayudhya, South East Life, Cigna, SCBLife, and Prudential.
"Almost all of financial and insurance companies have used our service, it's not worth investing in privileges themselves since it's a large platform. If they do, they will get only small bit of features which cannot help them win over other competitors, so there's no point to do so. The second reason is, you need to have an internal team since you cannot compete with experts in their area or those having the larger network. It must be so complicated, thus, it's better to do things you're good at and let a professional team having expertise in other segments handles it. As for Buzzebees, our customers has been increasing constantly and the trend of privilege has become very popular".
Aside from that, financial and insurance group has been growing consecutively, so things you have to do include 1. Find a difference 2. Methods to communicate with customers, which is only by smartphone. People use their smartphone at least 4 hours a day and it facilitates their life with a variety of features including receiving a notification to pay for insurance premiums, pay today and earn 500 points, particularly for sales representatives. If they can make sales at 30,000 Baht, they'll get free gold.
Even though they have their own customers, they offer different privileges, for example, privileges offered to sale representatives are different from those offered to customers. Krungthai AXA is an app developed only for sale representative, Cigna will send privileges via SMS, not a platform, Alianz Ayutthaya uses Line Business Connect, website, and application, and Healthy Living has their own application for both iOS and Android users.
"Developing a successful application requires privilege budget at the minimum of 500,000 Baht a month. Success is impossible even if you have your own application, if there's no privilege budget to spend".
Currently, it's the sixth year of Buzzebees, from the startup striving to develop an application that change the business model of digital world to be all in one solution in Thailand, to successful business expanding to foreign countries include Burma, Laos, Cambodia, Malaysia, Indonesia, Cameroon, Côte d'Ivoire, and Ghana. With 1.2 million active users daily and 50 million user base, increasing approximately 1 million users each month. The total amount of points has been used at around 11,000 million points, reward redemption is at around 12 million a year or 1 million redemptions a month. Buzzebees user capacity is at the maximum of 10,000 per second, using Microsoft, the largest cloud solution in Thailand which scale is larger than banks, also received awards from many competitions including Chao Fah IT competition from Her Royal Highness Princess Maha Chakri Sirindhorn and Asian award as Asian Marketing forum 2018, Asia's Top Outstanding Woman Marketeer of the Year 2018, and Asia's Top Outstanding Netizen Marketeer of the Year 2018.
"Our next move is to enter IPO in Thailand by 2020, if any organizations want to invest at better value, we may not issue IPO. Before 2020, we need to earn profits at 100 million Baht and enter IPO when the value of our company is at 3,000 million Baht as planned. We have quite a lot of shareholders approximately 40% if we enter IPO, we will become the first startup in the world entering IPO. Entrepreneurs sometimes want to buy our company, but they don't own a company as big as Facebook or Google. We need to become a unicorn 1,000 million US Dollars. In order to reach the target amount, we have to launch our platform in many countries, and those countries must remember our brand as Buzzebees Thailand".
Buzzebees is mainly focusing on expanding on South East Asia especially, in ASEAN. We haven't launched our platform in Philippines and Vietnam yet since it's difficult to find a partner due to many reasons include 1. Require IT background in order to answer questions relevant to IT 2. Require connections to reach out customers 3. Require connections to deal with merchants or stores since Buzzebees is a challenging model requiring people in various skills. Indonesia is the most growing country as having the highest population in ASEAN and Buzzebees has already partnered with the fourth largest bank in Indonesia to provide special privileges, invested budgets 4 times more than in Thailand. However, Buzzebees is the platform that most successful in Thailand, followed by Malaysia, and Indonesia respectively.
"The key to success of implementing privileges include 1. User-friendly 2. Privileges must be right for customers. The next step of Buzzebees is to become marketing life integration, meaning we have to integrate everything around us and now, customers will remember our ads because it's about us, that's why we have to put what interest them in front of them. Moreover, mobile is a quick and go thing, customers will scroll and then stop, so we have to offer what they feel really interested because if not, they'll start complaining us. Besides, people today use their mobile phone at least 4 hours a day, we can say that it's a powerful media that sticks with consumers longer than other media right now, "Pink" stated at the end.