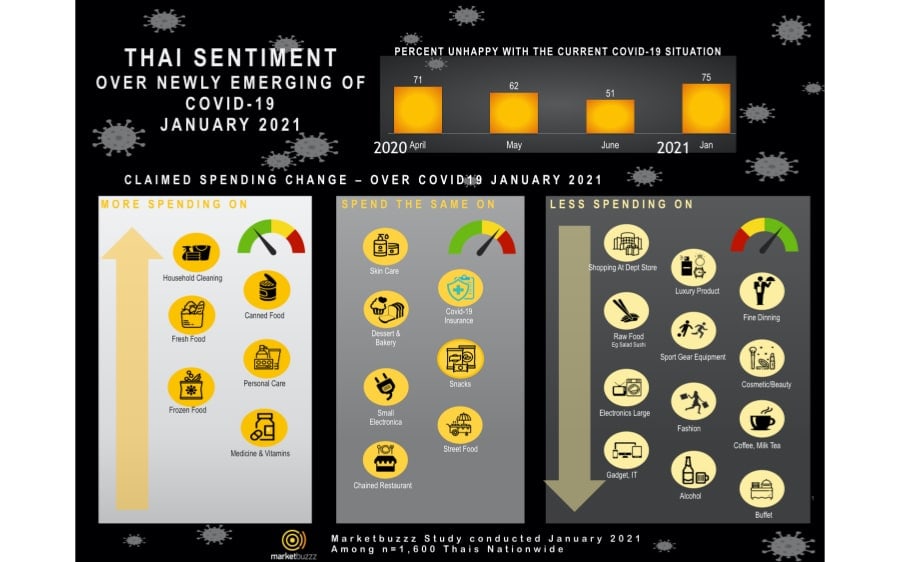 After a year where the number of coronavirus infections across Thailand was low by world standards the country was rocked by a newly emerging at the end of the year and measures were taken across the country to control the outbreak.
Thailand acted fast to tackle COVID-19 and now, we've seen an easing of the restrictions as the pandemic curve is now on a downward trend.
Not surprising the sentiment of the Thai people in January was low and even lower than what we experienced through-out the first wave of COVID-19 in 2020. Perhaps many people after what they experienced in 2020 were hoping a new year would turn out to be more positive for them and yet when you have the situation occur with the newly emerging of COVID-19 in January is appears to dampen the optimism which they were hoping for with the new year.
A review of the Thai sentiment is an important measure for how well the country and its people are holding up. The reason why consumer sentiment is so important is because household consumption -how much Thais spend on good and services, from food and cars to grooming will have a significant impact on the economy.
And it's for this reason we look at it closely at Marketbuzzz Sentiment Survey, as sentiment is a lead indicator and highly predictive of economic indicators. This was initially ran across several key times periods in 2020.  A second phase of the survey on 'Thai Sentiment Over the Newly Emerging of Covid-19' and 'Claimed Spending Change', started in January 2021 among 1,600 Thai's nationwide with the newly emerging of COVID-19.
A review of Thai sentiment from a study by Marketbuzzz and Vitamins Consultancy reveals that their feelings are less positive which 75% shows unhappy with the current Covid-19 higher than April – June 2020 and we also see consumer spending is well down over January and as we saw with the changes in people's lives with the COVID restrictions and the changes in people's lifestyle and behaviours too.
With the restrictions in place, the first finding that is evident is the shear number of categories which were experiencing less spending is substantially higher than those categories which did experience more spending or the same amount of spending as they would normally.
Not surprising, categories which have seen an increase in spending are household cleaning products which went up with more cleaning of the household to safeguard against COVID. With more time spent at home, canned foods, fresh food and frozen foods all went up again along with the personal care products and medicines and vitamins.
The categories which were most negatively impacted by the newly emerging of COVID-19 experiencing less spend in January were – Shopping at Dept Stores, Fashion, Buffets & Fine Dining, Raw Foods such as Sushi and Salads, Coffee and Milk Teas, purchase of Larger Electronics such as TVs, Air-Conditioners and White Goods were down, along with sports gear and equipment and alcohol products.
Mr. Grant Bertoli, CEO of Marketbuzzz commented "economists closely watch measures of consumer confidence because they are highly predictive economic indicators. Historically, consumer sentiment in one month can be used to forecast everything from employment rates to purchases over the coming months to predict the impact on the economy".
He added "In many ways the category declines are expected and similar to what we have seen over the initial wave of COVID-19, however what is important is how Thailand responds in the next few months which could determine if it will experience further economic issues".
As the start of year seems a distant memory, there is no doubt that the pandemic has created holistic shifts in all of our lives. How the economy performs is critical for the country and monitoring consumer behaviour and sentiment to try and forecast shifts and trends is even more important now to determine what that will persist well beyond the pandemic.
---
About Marketbuzzz
Marketbuzzz connects mobile, tablet and pc users interested in completing surveys with market researchers who need their opinions. Through our partnerships with dozens of leading mobile app we're able to reach an audience exceeding 12 million people in Thailand.