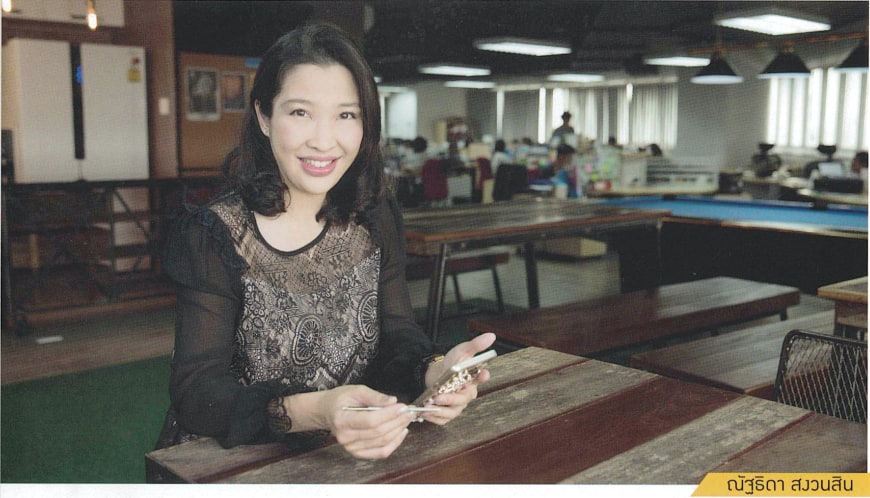 'Pink Nattida Sanguansin' from the IT woman earning her credit through developing the fingerprint system, certified by FBI and used by USA government, to using the same technology with Immigration Bureau, Royal Thai Police and Ministry of Labour in Thailand.
The business seems to be going well as she's the only one player in the fingerprint system market in Thailand, however, Pink can see that her customer base is only from Thai government sectors which is not enough for the future since they will hire her project by project and it's like a lucky draw campaign, to hope that her new project will be chosen.
With this reason, she started to look for transaction based business and with her expertise in IT, she decided to start her business on a smartphone platform, even if it was just the early age of Android or iPhone 3G back there.
Other business owners may choose to develop game or lifestyle apps, but for Pink, she thought that it would take extra efforts to do because those applications can retain their popularity up to 3 months before gone.
It's when Pink had started to seek for a more sustainable model, she found that brands cannot build relationship or make customers reach out to them. This is why Buzzebees was created, it's become CRM Mobile privilege now which focuses on providing a win-win situation to everyone relevant to Buzzebees include brands, customers, and SMEs.
After this idea, Pink and her team had put a lot of efforts developing the application, with several features implemented as much as her credits from developing the fingerprint system. She expect her Buzzebees to be the yellow Facebook in the future.
Despite putting a lot of efforts, it's not as successful as she expected when the application was first launched. No one heard or known about it and had only 10 active users on the platform.
Fortunately, she had a chance to present her works to AIS and Samsung, others only presented with a power point or described their ideas, but for Pink, she thought that if she couldn't attract these two clients, her company would be in trouble. When the expectation is so high, she learnt and prepared more than any competitors. Others might only show their slides of power point to clients, but for her, she let clients experience her application by themselves.
Finally, the first privilege application for AIS was developed from the prototype Pink presented to AIS or Galaxy Gift app, it's all developed from smart ideas of this woman plus her efforts.
As for her success, IT and Marketing skill alone can't take Buzzebees to have come this far with AIS, Samsung, and more than 40 leading brands in Thailand like today. One of the significant factors that makes Buzzebees become the leader of privilege is UX and UI, user-friendly is the key to success. Despite having a robust application or tons of deals to choose, the main reason customers decide to continue using this application is because of the first page of application, it affects customers' decision at the surprising rate of 98%.
Up until now, it has been 4 years since Buzzebees had developed. Aside from CRM privilege application, Buzzbees has been expanding its business model to research, focusing on developing applications to acquire discounts and deals from brands. From the first year of income at approximately 1 million Baht to 50 million Baht, and 370 million Baht at the end of last year. It is also expected to reach the goal for Series B at the end of the year.