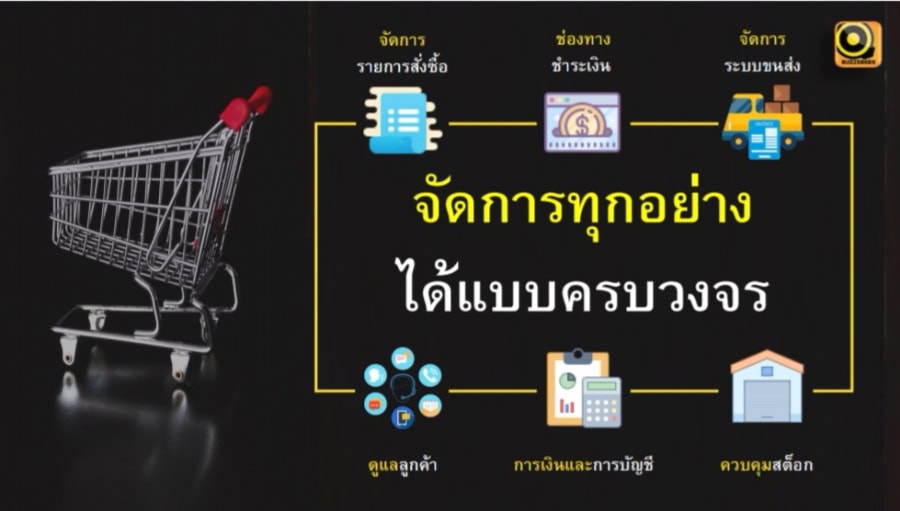 The evaluation of Department of Business Development revealed that selling through E-Commerce platform has been constantly increasing since 2014 at the maximum value of 69,444 million Baht and in 2015, increasing 20% more at the value of 83,520 million Baht and at 23% for 2016. It's also expected to have been increasing to two hundred thousand million Baht, all of these can tell us how much E-Commerce can grow in digital era. Moreover, this platform will keep increasing constantly according to Priceza's data, they evaluated that the total value of E-Commerce market will increase to 35% more or approximately two hundred thousand million Baht in 2020. The other key factor is due to COVID-19 pandemic, it encourages brands and entrepreneurs to quickly adapt their business and leverage strategies in order to catch up with New Normal lifestyle. From extensive experiences and knowledge about CRM Privilege Platform, together with 75 million users on database, Buzzebees has been aware of consumer's changing behavior after COVID-19 crisis. Many organizations have shifted their focus from brick and mortar store to E-Commerce, causing its Ecosystem to grow exponentially in terms of logistics, delivery, and cashless society. However, there're several brands not being able to catch up with the new trend, they don't know where to start or lack of cash flow, resulting in inability to release products from their store.
Ms. Nattida Sanguasin, Managing Director of Buzzebees Company Limited
said that "while facing with COVID-19 crisis, no one can predict how long it will stay with us or how many months, years will it take for businesses to be back on track or while we're at it; what should we do to keep our business going forward. However, Buzzebees has reviewed all the situations and started to prepare all necessary things, as well as transforming business in order to survive the crisis, we quick to adapt and confident to devise new ideas within a short time, along with helping brands and partners affected by COVID-19 crisis to find the best solution. This is how the business model has been formed as Buzzebees E-Commerce Solution which took only 3 months to complete development without fix cost which we all know it's a pain point for those starting E-Commerce business especially, for small and medium size SMEs. We strive to run business befitting our motto "If our partners can't grow, no way can we grow". "Buzzebees has developed one stop service platform as "Buzzebees E-Commerce Solution", a new service designed to help SMEs and medium size businesses having revenue at around 50 million Baht and are willing to expand offline customer base into online. It's one of the best marketing tools designed to be one stop service and full-featured, perfect for entrepreneurs seeking for a way to expand customer base and increase sales efficiently. We'll help you from the start to the end of your journey including online business planning, online marketing, budget analysis as well as brand building and start selling via Line Official, Shopee, Lazada, JD Central, and etc. Not only that but Buzzebees also assist you in managing orders, payment methods, logistics, customer service, financial and accounting service, inventory management, and deep analysis customer's behavior". In her opinion, Ms. Nattida explained that "The SMEs, specifically, those having potential to boost their business growth shouldn't miss the opportunity to improve their strategy by stepping into online. Not only it meets customer's fast-paced lifestyle but also provide a new opportunity to reach new customers via online due to high demands of E-Commerce shopping these days, they already get used to shopping online at home and when everything is back to normal, all services will be set to higher standard caused by their higher expectation; you have to make a quick delivery and make them feel at ease with no problems, your product must be delivered with quality package, as well as quick respond, and much more. All these things are in Buzzebees' expertise, we 've developed it exclusively to fit every aspect of our customer life". Besides, Buzzebees has foreseen the upcoming trend for customers if they want to expand their business 360 degree in digital landscape. It would be easy and instant to connect their system to various kind of services without starting everything from the scratch. We provide Ecosystem to accommodate a variety of implementation options include Omni-channel marketing, CRM (Earn points or privileges from participating stores in 15 categories) to build customer desirable experiences as well as variant payment methods such as True Wallet, Airpay, Alipay, credit card or pay at convenient stores, marketing and advertising services, everything in one place. We need to ensure that our corporate clients achieve their goal while successfully discovering a new Marketplace to sell via Buzzebees partners.
Nattida concluded that
"We've got a lot of good feedbacks than expected after introducing Buzzebees E-Commerce Solution to brands. As for now, we already have 8 customers using the solution after 2 months of launching and we'll have more in the near future. For this year, Buzzebees will shift the main focus to E-Commerce platform and we also expect this solution to continue growing remarkably and become one of the flagship solutions by Buzzebees at the end of 2020".
---
If you have any queries, please contact
K. Khuntira Nattawattananon Public Relations Consultant Tel: 094 1545698 E-mail:
khuntira@buzzebees.com
Images